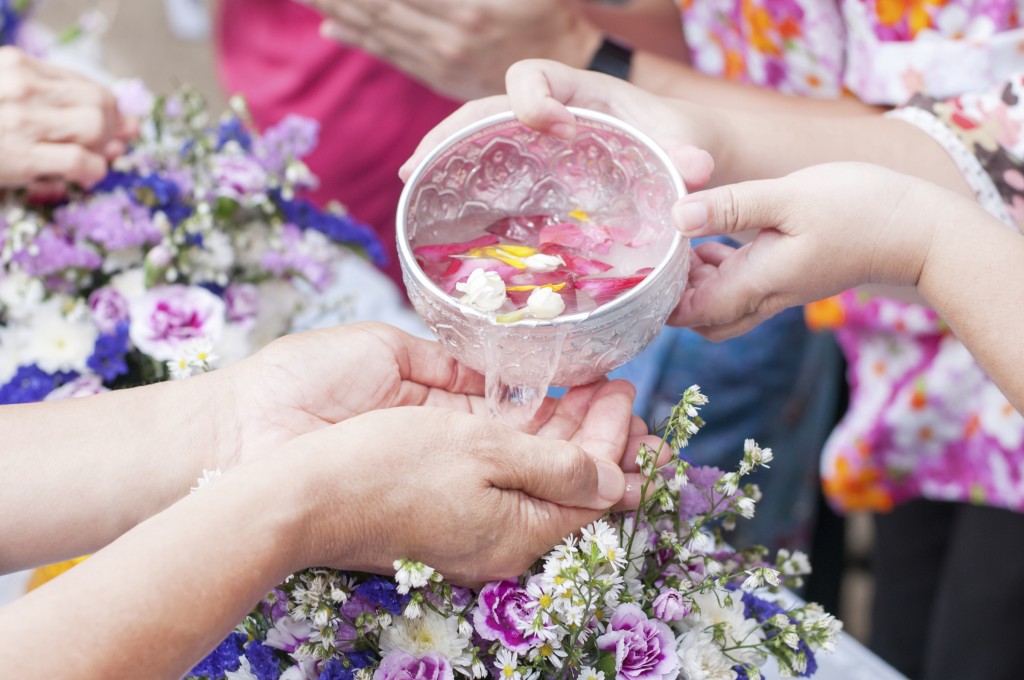 Songkran is one of the most exciting times to stay in Bangkok – especially if you're in a prominent area such as Chidlom. In this post, we're going to take a look at the background of Songkran and offer some advice on where you can go to celebrate the occasion.
Songkran in Bangkok
Songkran is the traditional celebration of the Thai New Year, and takes place every 13 to 15 April. Traditionally, this holiday was held before the onset of the monsoon season, when farmers had relatively little work to do in relation to their fields. This gave them a chance to come together and celebrate the New Year with family and friends.
One of the central aspects of celebrating Songkran was the annual cleaning of Buddha images in the temples. After the resident monks had scrubbed them, devotees would come and splash small amounts of scented water on the Buddha images. This water would also be used in ceremonies to honour the elderly in the village. This is where the tradition of water splashing originated.
Today, traditional aspects of this important Thai holiday persist in temples and some parts of the rural countryside. But the celebrations on the street have ratcheted up in recent years. If you're celebrating the Thai New Year in Bangkok, you'll find yourself in the midst of one of the most spirited, fun-loving water fights you've ever been involved in. It's a lot of fun – to say the least.
Celebrate Songkran at Central World
If you're staying at Centre Point Chidlom during the Songkran festival and would like to get in on the action, we recommend celebrating nearby at Central World. There will be several planned zones in the area around Central World, with a range of exciting activities and outdoor concerts planned.
And there will also be ample opportunity to get in on the water splashing at Central World, with complimentary refill stations and vendors selling water guns and other Songkran essentials. The festivities at Central World are held on 13-15 April from 12:00 pm to 9:00 pm.
Special Songkran Promotion at Centre Point Chidlom
If you are planning to celebrate Songkran in Bangkok this year, be sure to check out the exciting promotions that we're currently featuring at Centre Point Chidlom. For starters, we're offering a special discount that is only available online. In addition to a 10 per cent discount, you can also receive the following amenities for free:
Daily buffet breakfast at Blue Spice restaurant
Welcome jelly upon arrival
Wi-Fi Internet access
Seasonal welcome fruit in your room
Late check-out until 4:00 pm
Coffee and tea in the lobby
Tuk-tuk shuttle service to and from BTS Chitlom (during certain hours only)
This incredible Songkran deal is only available to guests who book their accommodation through our website. Simply enter this promotional code upon booking in order to capitalise on these savings: SK1610.
Songkran is always a good time in Bangkok – especially when you stay with Centre Point Chidlom. Reserve your room now and get ready to have some fun!