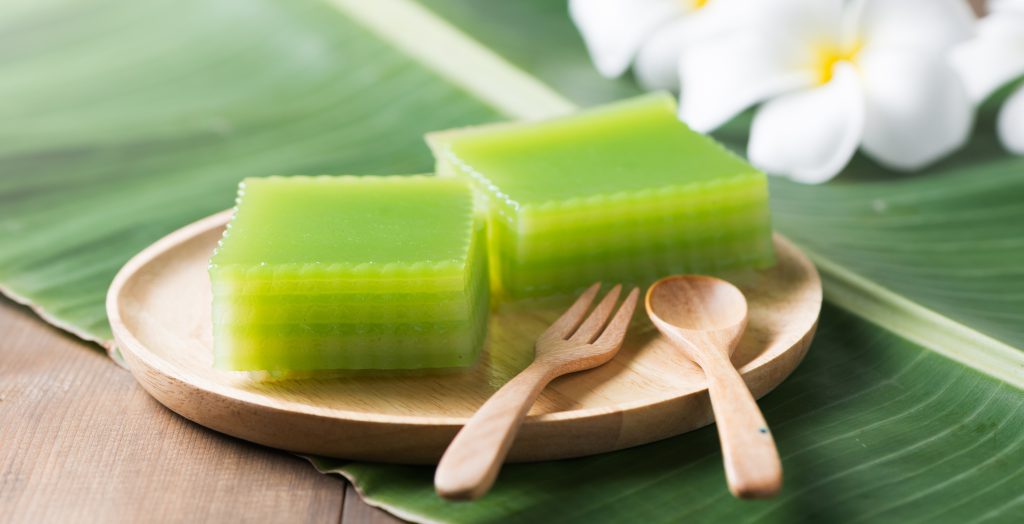 As you're wandering around the busy and chaotic streets of Bangkok, the capital city of Thailand, you can't help but notice the amazing street food eats. There are so many different Thai dishes and street snacks to try, your mouth will be exploding with flavor. Without a doubt, Bangkok is a foodie city. The largest city in Thailand has some of the best restaurants and food carts throughout Southeast Asia. Be prepared to have your mind, and tongue, blown away by how extraordinary the meals are.
After chowing down on some Pad Khee Mao, also known as drunken noodles, and some creamy coconut curry, your face will be shiny from the heat. Not just from the heat outside, but also from the bowl. Your tongue will be swimming in spices that are tickling your palate. The best way to cleanse your mouth is by ordering a tasty dessert. One of the best things about Thai desserts is the fact that they're great palate cleansers. This is because they're not overly sweet, like many Western desserts.
One of the best desserts for removing the spiciness from your taste buds is Khanom Chun, also known as Thai jello. Thai jello is very easy to spot since it is often bright green, but it can also be a different color depending on what is mixed into it. The jello is made from palm sugar, coconut milk, rice flour, tapioca, tea, and pandan leaves (which is what gives it its color). Khanom Chun is different from regular jello since it is much more creamier and has a rich taste.
The jello is called Khanom Chun, which means "layered dessert" in the Thai language. The Thai jello typically has nine layers, but you can find some with less. There is a symbolic reason for why there are so many layers. In the Thai culture, they believe that the number nine is a symbolic sign of future success. They believe that by seeing the number nine, you will achieve progress and become prosperous. If you were ever invited to a special event such as a company party or wedding, it would not be uncommon to see this dessert. Since there is such a strong symbolic association, you will usually see Thais eat this treat during a ceremony or grand occasion.
Not only must you try Khanom Chun, but your friends and family visiting Thailand with you should try it too. You won't want to share your piece of jello with them anyways (it is that good)! No worries, Khanom Chun sells for less than $1 USD on the streets of Bangkok and you can usually score a deal with the vendor. If you are traveling with your little ones and worried about what foods they can or cannot eat, this one is definitely safe. Children of all ages have no problem eating this sweet treat since it is soft and it easily dissolves in their mouth. You will not have to worry about them when they eat it since it's not too hard for them to chew and it's not spicy. It will also fulfill their sweet tooth craving and they will not complain about how they can't find delicious food in Bangkok!
Khanom Chun is traditionally made with the pandan leaf but it can also be made with different ingredients. If the color of the jello is brown, that is usually a good indication that coffee was mixed into the jello batter. There are a variety of different flavors, so it usually depends on what the vendor is selling. No matter what, you must try Khanom Chun before leaving Thailand.
The best place to get a slice of Khanom Chun is in the Chidlom district of Bangkok. Chidlom is home to many great food carts and incredible malls such as the Amarin Plaza. There is also a nice food court called the Food Loft near the mall that serves a variety of foods from around the world. If you're looking to stay at a great place nearby so you can enjoy all the best foods and attractions in Bangkok, check out the rooms at Centre Point Hotel Chidlom. Centrepoint offers the best accommodation for a reasonable price. We hope you enjoy your trip in Bangkok and hope you get a chance to try Khanom Chun!