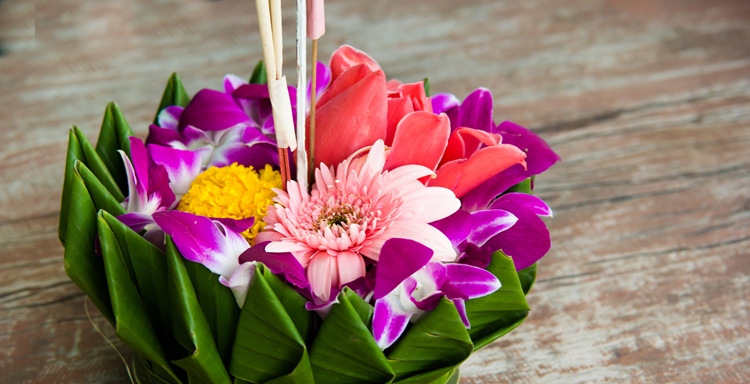 Each and every year, citizens of Thailand enjoy celebrating Loi Krathong. Loi Krathong happens during the night of the full moon in the 12th month according to the lunar year calendar (which is usually in November). The festival is generally hosted in the south western part of Asia, with Thailand being one of the biggest countries to partake. If you're going to be in Thailand during the festival this year, especially Bangkok, we've got a great tip on where to go to enjoy in your first celebration.
Meaning of Loi Krathong
The words Loi Krathong translate into what the celebration is all about. Loi specifically means "to float" while Krathong means "a small container of leaves." Instead of actually floating leaves along a pond or river, people nowadays make a boat out of paper, or banana leaves, to float a candle. Making a boat out of banana leaves is the most traditional way but you can easily make one out of paper or any other water resistant material.
When the fullest moon arrives in November (or whichever month the 12th month falls on in the lunar calendar), everyone attends the festivities for Loi Krathong. When the moon is full, everyone places their boats on the water. As they watch their floating vessels reflect the flames of the candle onto the water, they make a wish.
The origin of Loi Krathong is said to have come from a ceremony that pays respects to the gods of the water. Many people place money or small chunks of food as a gift for the water spirits. This small offering is supposed to show respect toward the natural divine.
The Best Place in Bangkok to Celebrate Loi Krathong
Are you trying to find the perfect place to join in on this fun celebration in Thailand? Luckily, if you're planning to be in Bangkok on Friday, November 3rd, you will get a chance to join in on the celebration. There are plenty of parks and access points to the river so it won't be hard trying to find a lively party.
If you've booked your stay in the Silom district, we recommend heading to the Loi Krathong celebration hosted at Lumpini Park. Lumpini Park is one of the best city parks in Bangkok. The park provides a spacious green space and on a nice sunny day you'll see locals riding their bikes, jogging, and playing games along the path.
One of the best features in Lumpini Park is the large pond. This is why Lumpini Park makes a great spot for the Loi Krathong celebration. If you're looking to float your handmade boat in a more natural environment where you can easily spot your boat on the water, this is the perfect place.
One of the nice things about floating your boat in Lumpini Park is that there are fishes in the pond, so you should buy a bread boat so you can watch the fishes have a good time eating and it is eco-friendly as well.
Although there are many places to celebrate Loi Krathong, Lumpini Park is one of the best. The atmosphere is calm since you almost feel as though you're outside of the city with all the large trees. If you're looking to be more like a local and to see where they like to go, you must visit Lumpini Park.
Where to Stay in the Capital City of Bangkok
If you're still trying to find a great place to stay in the capital city of Bangkok that's close to Lumpini Park and the Loi Krathong festival, you should consider staying in the Silom district. Not only is Silom within walking distance of the park, but it's home to some of the trendiest shops, markets, and you can find tasty street food at the local food stalls.
If you haven't booked your room yet, you might want to do so before they all fill up for Loi Krathong. Fortunately, we should have suites available at our Silom location here at Centre Point hotel. Feel free to take a look at our award winning rooms to see which one suits your needs.
Have Fun Celebrating Loi Krathong!
We hope you have a great time in Bangkok and that you enjoy your first Loi Krathong!