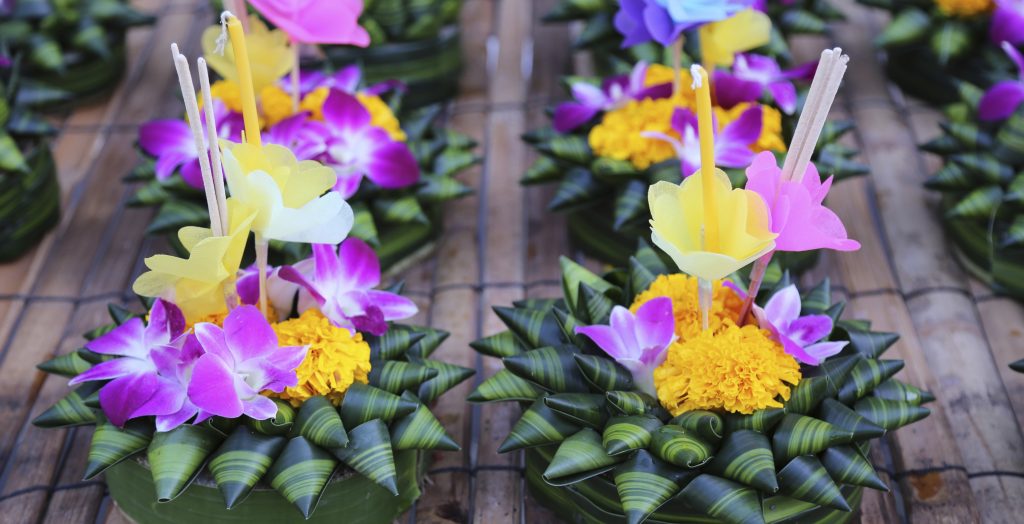 It's almost time for the Loy Krathong Festival in Thailand. Each year, Thai people gather around their local waterways to celebrate. This is an important occasion for families and couples, and it can also be an exciting time for tourists to witness one of Thailand's most cherished traditions – the launching of krathong rafts on the river.
A krathong is a small basket or raft made from natural materials (usually banana leaves). It is decorated with flowers, incense sticks and a candle. These are lit and then the raft is launched onto the water. As it floats away, some people believe that it carries off your bad luck with it. A river or waterway full of flickering krathong rafts is a beautiful sight to behold.
However, it is important to note that this year's Loy Krathong is going to be a more sombre affair than it usually is. We'll explain more about that in the next section.
This Year's Loy Krathong Festival Will Be Toned Down
With the passing of His Majesty King Bhumibol Adulyadej, Thailand is currently in a period of mourning. This means that Thai people across the country – and even across the world – are demonstrating their sorrow by wearing black and, in some cases, refraining from some forms of entertainment or celebration.
As Loy Krathong falls within the original 30-day mourning period, it is likely that this year's festival will be slightly more toned down than in previous years. There will still be large crowds of people coming together to float krathongs on the rivers and waterways. However, the festivities will be decidedly more sombre. For example, they're unlikely to feature the usual concerts, beauty pageants or firework displays.
Loy Krathong: Spotlight on Samut Songkhram
Samut Songkhram is a popular place to celebrate Loy Krathong, and many Bangkokians travel here each year to observe the festival. It only takes an hour to drive here from Bangkok, but the overall atmosphere is decidedly more laid-back and traditional. Samut Songkhram also has its own special version of krathong.
In most provinces, khrathongs are fashioned out of green banana leaves and flowers. But in Samut Songkhram, the tradition is to make them out of the stalk of the banana tree. Some people call this the banana leaf sheath. This material makes for a sturdier and simpler raft than you'll see in other provinces.
If you like, you can even participate in the tradition by making your own krathong. There will be stations set up along the banks of the Mae Klong River where you can decorate yours with flowers, incense sticks and a candle before launching it onto the river.
If you are going to be staying at Centre Point Chidlom during the Loy Krathong festival and would like to see the traditional krathongs of Samut Songkhram, please let our front-desk staff know. They can help you arrange transportation and offer advice on what to see and enjoy whilst there.