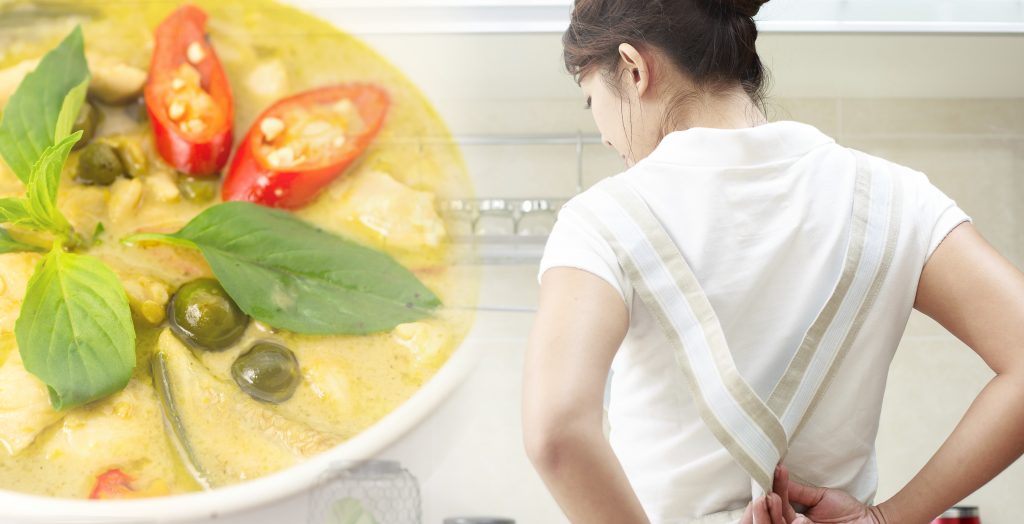 Thai green curry is one of the milder (i.e. not spicy) curries found in Thailand. In Thai language, it's called gaeng kiaw wan, which means 'sweet green curry', and you'll find it at a variety of restaurants around Bangkok.
And if you end up loving the curry (as many visitors do), then you might be interested in learning the recipe. That's why we're dedicating a blog post to how to cook Thai green curry at home.
It's worth pointing out that, if you really want to make the curry taste authentic, then it's best to make your own curry paste. But the art of making a delicious curry paste is difficult to master – especially if you don't have access to the right ingredients. With that in mind, we're including the recipe for the curry paste here, but you may also be able to find a ready-made Thai green curry paste in stores at home instead.
Thai Green Curry Ingredients (serves 3-5)
For the chilli paste:
Birds eye chillies (approximately 20 to 25, depending on the size)
10 cloves of garlic (peeled)
1 tablespoon of sliced galangal
3 red onions (peeled)
1 tablespoon of shredded celery root
3 tablespoons of vegetable oil
1 teaspoon of cumin
2 teaspoons of coriander seeds
1 teaspoon of shrimp paste
1 teaspoon of shredded kaffir lime rind
10 white pepper seeds
1 tsp of salt (to taste)
For the curry:
1 cup of chicken (sliced in small pieces)
2 cups of coconut milk
2 tablespoons of basil leaves
5 Thai eggplants (quartered)
1 tablespoon of chicken soup stock powder
2 tablespoons of sugar
3 tablespoons of fish sauce
2 tablespoons of red chilies (sliced)
4 tablespoons of kaffir lime leaves
How to Make Thai Green Curry
Begin by taking the ingredients for the chilli paste and blending them together in a food processor or blender. This will yield more than is needed to make a small batch (you'll use two tablespoons in this recipe), but you can keep the remainder in the refrigerator for up to a month.
Next, heat the coconut milk over medium heat for about five minutes, or until it's just about to boil. Then add two tablespoons of the curry paste you prepared above and mix it into the coconut milk. Continue stirring and mixing until the mixture becomes frothy and is about to boil.
Now add the chicken and maintain this temperature for about two minutes, without stirring. Then add the fish sauce, sugar and soup stock powder to the mixture. Finally, add the eggplant, kaffir lime leaves, sliced red chillies and basil. Continue simmering for five minutes.
Ladle the curry into bowls and serve with your favourite carbohydrate. In restaurants, Thai green curry is usually served with Jasmine rice, but you can also enjoy it with rice noodles (khanom chin) or even unsweetened roti.